Hiram Blauvelt Art Museum Presents Wildlife Exhibit
Featuring four prominent wildlife artists
Albert Earl Gilbert, Leslie Delgyer, David Turner and William Turner
Runs until September 2nd, 2018
You are invited to the Blauvelt's "Wildlife" Art Exhibit which will come alive with 4 prominent wildlife artists who each bring a unique approach to capturing wildlife in its environment. Each is well regarded and respected for the ability to bring realism to their subjects through drawings, paintings, and sculpture. In addition, each artist shares a compassion for wildlife conservation.
Albert Earl Gilbert: Albert Earl Gilbert (Gil) is known as one of the world's premiere wildlife artists. He has participated in many expeditions sponsored by the American Museum of Natural History. Gil served as President of the Society of Animal Artists from 1977 to 1984. As an artist his mission includes drawing attention to the plight of rainforests and wildlife. He is dedicated to conservation and has donated original paintings and prints to many wildlife organizations striving to preserve endangered species. Gil has some 80 paintings in this Exhibit which runs until September 2nd, 2018. Check out Gil's paintings along with those of the other artists at The Blauvelt Museum, Open Wednesdays, Thursdays and Fridays from 10 AM to 4 PM -Saturdays and Sundays from 2PM to 5 PM. Closed Mondays and Tuesdays. 705 Kinderkamack Rd, Oradell, NJ 07649 Phone: (201) 261-0012
https://patch.com/new-jersey/paramus/hiram-blauvelt-art-museum-presents-wildlife-exhibit
---
Bird Watercolors By Albert Earl Gilbert  At The Peabody
By Susan Dunne Contact Reporter
January 1, 2018
If the cold weather has got you down, a trip to the Yale Peabody Museum of Natural History in New Haven may warm your bones. An exhibit of about 25 pretty watercolor paintings of birds by Albert Earl Gilbert focuses on feathered friends from warmer climates.
The birds' spectacularly bright, showy colors and elaborate plumage make the modest taxidermied creatures in the neighboring Hall of Connecticut Birds look downright dowdy.
Gilbert did field work for years, drawing and painting birds in natural habitats all over the world. His work has been showcased by the National Audubon Society. He also is famous for his painting of a more domestic bird, a Hooded Merganser, which won the 45th Federal Duck Stamp Contest in 1977. Great ornithologist Roger Tory Peterson called him "one of the half-dozen best wildlife artists in America."
Gilbert seems particularly partial to trogons, adorable little jewels found across Central and South America, Africa and Southeast Asia, whose striking coloration is complemented by distinctive, elegant tails. The Whitehead's Trogon, from Borneo, are scarlet as males and school-bus yellow as females. Javan trogons are teal and blue with golden breasts. The Sumatran and Cuban trogons are especially colorful. In Sumatra, they have backs of blue, orange and green, chests of yellow, green head and gray striped wings. In Cuba, red, blue and white predominate.
Hornbills, with their long, bumpy beaks and relatively sedate coloring, aren't as captivating as the princessy trogons, but they do look more majestic.
The queen of the exhibit is the Respendent Quetzal, a red-breasted, short-beaked native of Mexico with a long, feathery tail of lime green.
AN ARTIST FOR CONSERVATION: THE PAINTINGS OF ALBERT EARL GILBERT is at Yale Peabody Museum of Natural History, 170 Whitney Ave. in New Haven, until April 15. peabody.yale.edu.
http://www.courant.com/entertainment/museums-galleries/hc-ctnow-yale-peabody-bird-paintings-0104-story.html
Copyright © 2018, Hartford Courant
---
Yale Peabody Museum of Natural History Gallery Talk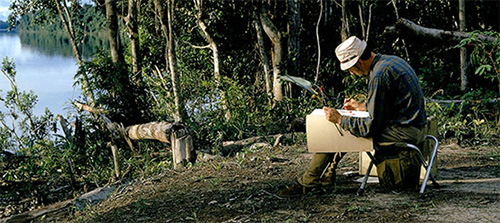 A Wildlife Artist in the Field
Albert E. Gilbert
Thursday, October 19, 2017, at 4:00 pm
3rd floor gallery featuring "An Artist for Conservation: The Paintings of Albert E. Gilbert.
Albert E. Gilbert will discuss painting in the tropical jungle as well as creating art for conservation that includes his federal duck stamp design that raised over $11 million for the protection of wildlife and acquisition of habitat.
In addition to sharing painting techniques necessitated by tropical conditions, Al will tell of harrowing encounters with predators in the remote native habitats of his subjects. Learn how a little bird saved his life! Gilbert's paintings are currently on display in the exhibition An Artist for Conservation: The Paintings of Albert E. Gilbert.