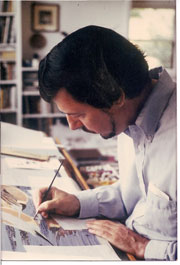 From an early age, Albert Earl Gilbert knew he was born to draw animals and birds. Today he is acknowledged as one of the world's premiere wildlife artists. "Gil" knew that an artist has to know his subject before he can render it well on canvas. During his high school years, that often meant playing hooky from school to take a trip to the zoo or a hike in the woods, where he could try his skill with his subjects close at hand. With his sketchbook in hand, he spent many days drawing the animals and learning all he could about them. It paid off in the end when Gil gained the reputation of an artist who paints from personal knowledge of his subject. In his book, Twentieth Century Wildlife Artists, Nicholas Hammond calls Gil "one of the best wildlife artists working today."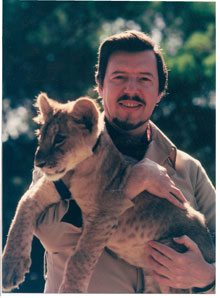 Gil's talent for drawing and painting was evident early on. He never needed a babysitter. His mother would simply sit him on the floor with a box of crayons and a big tablet to keep him busy. While he was still a senior in high school, he participated in a statewide scholarship examination that netted him a scholarship to the University of Illinois.
Gil took a job as a Park Ranger for the Cook County Forest Preserve in Illinois. It offered plenty of security, but the urge to paint on a full-time basis finally overtook him. He made the decision to quit his job as a ranger and went to work at the Field Museum in Chicago where he illustrated his first book on tropical birds and launched his career as a free-lance artist.
Gil went on many expeditions sponsored
by the American Museum of Natural History. His work met the museum`s standards for accuracy and attention to detail. Through the years, he has traveled to East Africa, Madagascar, the Amazon jungle, Mexico and Trinidad. He climbed Eagle Hill with Leslie Brown, the renowned authority on eagles and other birds of prey, while he was in Africa. Only four Americans had climbed to the top before. Gil returned to Africa in 1999, and most recently made an extensive field expedition to remote places in Borneo, Malaysia, Sumatra, Java and Australia.
Gil served as President of the Society of Animal Artists from 1977 to 1984. As an artist, his mission includes drawing attention to the plight of rainforests and wildlife. He is dedicated to conservation efforts and has donated original paintings and prints to many organizations including the National Audubon Society, World Wildlife Fund and Ducks Unlimited to help raise funds to protect and preserve endangered species and their habitat. He hopes his art will have a direct effect on the survival of the world`s wildlife in this way.
——————–THE ART——————–
He won the Federal Duck Stamp competition the first time he entered with a painting of a Drake Hooded Merganzer. He was later honored at a White House reception for Duck Stamp winners recognizing their contributions to conservation. The painting of the Drake Hooded Merganser was done in opaque watercolor. A photolithograph was made photomechanically using six colors of permanent lightfast ink on 100 percent rag Mont-Lith Vellum 140# paper. The prints are hand signed in pencil and numbered. The edition in 5,800 regular with 1,350 remarqued in watercolor. There are 300 artist proofs. The image size is 7″ x 9 7/8″.
THE FEDERAL DUCK STAMP
Drake Hooded Merganser…Engraved by the Federal Bureau of Engraving from the original artwork. Printed in yellow, orange, brown, blue, and black ink. The stamp sold for five dollars. Postal records show 2,196,758 stamps sold. First day of sale was July 1, 1978.